Headlines
2 dead in Oxon Hill convenience store shooting: Police – NBC4 Washington
2 dead in Oxon Hill convenience store shooting: Police – NBC4 Washington
A man and a woman were killed in a shooting Friday morning at a Giant store in Oxon Hill, Maryland, when an attempted shoplifting turned deadly, police said.
Police said the male security guard confronted the shoplifter, who pulled a gun from her backpack and opened fire on the guard. He then returned fire, police said.
Prince George's County police responded around 10:25 a.m. to a shooting at the Giant in the 20 block of Audrey Lane in the Eastover Mall.
The security guard was pronounced dead at the scene. The suspected thief died in hospital, the police said.
A witness reported multiple shootings in the store.
Officers swarmed the store during the investigation. Police tape blocked a large part of the parking lot. Giant is closed to customers while police investigate.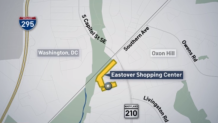 The shooting was an isolated incident and there is no threat to the community, police said.
Information on the identity of the man and woman was not immediately available.
Stay with News4 for more on this developing story.


#dead #Oxon #Hill #convenience #store #shooting #Police #NBC4 #Washington