Headlines
Russia rebuilds, disguises Iranian drones with its own markings: ISW
Russia rebuilds, disguises Iranian drones with its own markings: ISW
The Russian military is refurbishing and disguising Iranian-made drones with Russian military markings for use in the war in Ukraine, according to a new report by the Institute for the Study of War.
"Ukraine's Main Military Intelligence Directorate (GUR) reported on November 1 that Iranian officials intend to send to Russia a shipment of more than 200 Shahed-136, Mohajer-6 and Arash-2 combat drones," the Institute for the Study of War (ISW) said. in assessing Russia's offensive campaign on Tuesday. "GUR reported that Iran will send the drones to Russia in a disassembled state and that Russian personnel will assemble them with Russian markings."
According to the report, on Tuesday, Ukraine's main military intelligence agency said that Russia is expected to receive hundreds of new drones from Iran at the beginning of this month. "The drones will arrive in an unfolded state. In the future, they will be collected on the territory of the Russian Federation, repainted and applied with Russian markings, especially 'Geranium-2'," the Ukrainian Main Military Intelligence Directorate announced.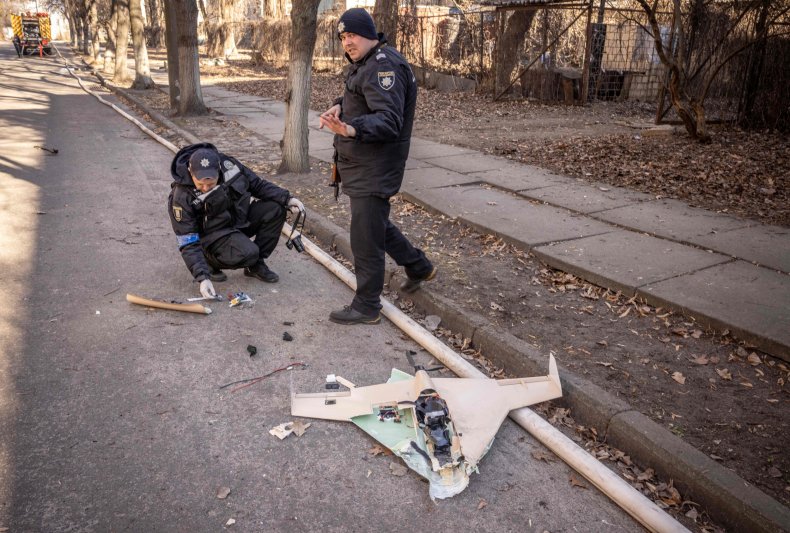 The report by ISW and Ukraine's Main Military Intelligence Directorate comes amid the ongoing war between Ukraine and Russia. Ukrainian officials have repeatedly claimed that the Russian military is using Iranian-made drones, and that they have shot down hundreds of them.
Last month, Ukraine also announced that in addition to Shahed-136 drones, Iran is sending Russia Arash-2 droneswhich ISW previously said were "reportedly faster and more destructive".
While talking to Newsweek last month, Katherine Lawlor, a senior intelligence analyst at ISW, explained that: "The only reason it would be more effective than the Shahed-136 is if it could go significantly faster, if it could have some sort of stealth capability. They have no evidence that this is the case , but the Iranians claim it is faster and bigger."
Lawlor too said Newsweek that during the ongoing war, the Russian military has shown that its use of drones "is to achieve a terroristic effect on Ukrainian civilians … not to achieve a dramatic change on the battlefield."
The latest ISW report also said defense forces have "shot down more than 300 Shahed-136 drones" since Ukraine first began accusing Russia of using Iranian-made drones in September.
However, Iran continued to deny reports that they were supplying military equipment to Russia. In a statement in October, Iranian Foreign Ministry spokesman Nasser Kanaani said the allegations "without foundation."
Newsweek approached ISW and the Russian Foreign Ministry for comment.


#Russia #rebuilds #disguises #Iranian #drones #markings #ISW