Science
Watch NASA launch the Artemis 1 rocket onto the launch pad early Friday
Watch NASA launch the Artemis 1 rocket onto the launch pad early Friday
NASA's Artemis 1 lunar rocket will return to the launch pad early Friday morning (Nov. 4), and you'll be able to watch the action live in slow motion.
Artemis 1 stack — huge Space Launch System (SLS) rocket on top Orion spacecraft — is scheduled to depart from the Vehicle Assembly Building (VAB) at NASA's Kennedy Space Center (KSC) in Florida at 12:01 a.m. EDT (04:01 GMT) on Friday.
Artemis 1 will head towards KSC's Pad 39B, the launch pad for the mission, which is targeted for a November 14 launch. The 4-mile (6.4-kilometer) trip, made atop NASA's giant track transporter-2, is expected to take about 10 hours.
NASA will live-stream at least part of this long journey, if Artemis 1's past trajectories are any guide. Space.com will broadcast that webcast, courtesy of the space agency.
Related: NASA's Artemis 1 mission to the moon: Live updates
More: NASA's Artemis 1 mission to the moon explained in photos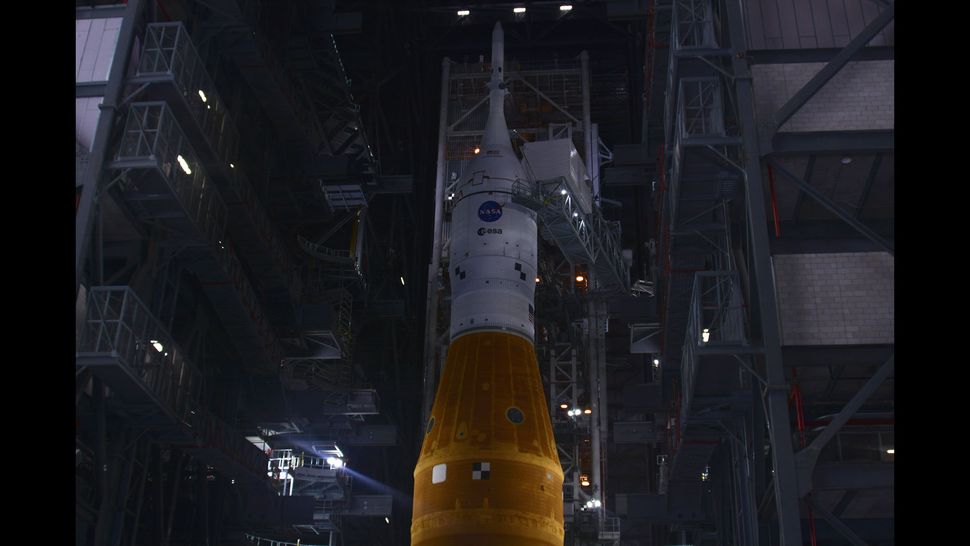 This will be Artemis 1's fourth trip from VAB to Pad 39A. The rocket took off in March and June to conduct pre-launch fueling tests, then returned again in mid-August for a liftoff attempt.
Errors thwarted planned launch attempts in late August and early September, and NASA then returned Artemis 1 to VAB in late September to shelter from Hurricane Ian.
Mission team members used this latest stay at VAB to perform minor repair and maintenance work, along with a series of tests to ensure Artemis 1 is ready for flight.
Artemis 1 is NASA's first mission Artemis programwhich aims to establish a permanent, sustainable human presence on and around month by the late 2020s.
Artemis 1 will be the first flight for SLS and the second for Orion. It will send an uncrewed capsule on a roughly month-long cruise to lunar orbit and back. if all goes well, Artemis 2 will launch astronauts around the moon in 2024 or so, and Artemis 3 will put the boots down near the south pole of the Moon a year or two later.
Mike Wall is the author of "There (opens in new tab)" (Grand Central Publishing, 2018; illustrated by Karl Tate), a book about the search for extraterrestrial life. Follow him on Twitter @michaeldwall (opens in new tab). Follow us on Twitter @Spacedotcom (opens in new tab) or on Facebook (opens in new tab).




#Watch #NASA #launch #Artemis #rocket #launch #pad #early #Friday